As we all know, the winter wedding season is here! What are your preparations for it? It is time to pull out your ornate shawls, hefty jewellery, and gorgeous sarees from the closet. You should dress appropriately for the occasion since any Indian wedding would welcome you with a spark of extravagance. It is the perfect justification for investing in new clothes and updating your wardrobe. Sarees, whether for a wedding, cocktail party, summer brunch, or formal work attire, are a must-have for any Indian woman. Sarees provide unparalleled elegance and comfort. The six-yard plead is a classic wardrobe staple that anyone, young or old, conventional or avant-garde, may wear.
Our beloved Bollywood divas are the best when it comes to couture and putting together killer wedding dresses. They can dress up any clothing, whether a beautiful glam dress or a plain silk saree. Would you like to experiment with their looks? Indeed, that is possible!
Use the lovely sarees worn by Bollywood actresses as fashion inspiration at the wedding function. These stunning Bollywood-inspired sarees, worn by celebrities like Deepika and Kiara, are a must-have for this wedding season. Browse through some exceptional Bollywood-inspired sarees collection in this blog!
 Ruffle Saree By Shilpa Shetty: The dark pink ruffled saree worn by Shilpa is the ideal dress appropriate for a wedding event because it appears both fashionable and chic. The ruffle saree is perfect for fusing ethical and current trends into one outfit. The best strategy for reinstating the traditional style is this one. With its elegance and grace, a ruffled saree will turn eyeballs. As you can say, the intricate pleats or ruffles can be seen on her saree's pallu, pleats and borders. It is what makes the ruffle saree unique, among others. Are you ready to carry the same look that exudes a nostalgic vibe? Carry the same look in a different colour. You can even experiment with prints in it, such as the floral print ruffle saree shall look fabulous. The two elements in this saree style can increase your fashion quotient to the next level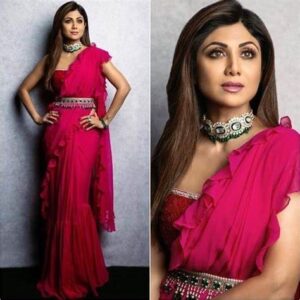 Glitter Saree by Deepika: Deepika Padukone's gorgeous sequin saree may make you appear like the supreme glamorous diva. A sequin saree is the perfect quick pick-me-up that requires little effort but still looks fashionable every time you wear it. Because you don't want your jewellery or cosmetics to take away from the beauty of your saree, the only styling rule you should go by is that less is more. The sequin saree gives a simple or traditional outfit a contemporary touch, especially something like a glitter red sareeon the leading wedding event or a cocktail party shall be ideal! You can have a plain blouse on this type of saree to balance the entire look. Glitter sarees are, however, all about colours. You can have a hot vibe by opting for a similar black glitter saree. Or how about going for a bubbly look with a pink glitter saree? Trust us; you shall look fantastic in all!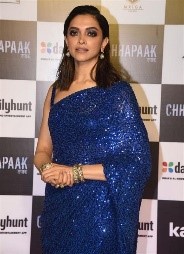 Sequin Saree By Janvi Kapoor: Janvi Kapoor is always known for her fashion sense. The way she adorns every outfit is quite remarkable. Just look at her jaw-dropping lavender sequined saree – this attire clearly depicts how a chic and classy woman can don a sequin saree elegantly. The sequin blouse with a deep neckline and minimal accessories complements the saree in all. She looked gorgeous and confident in this attire and so can you. Don a beautiful sequined saree to a cocktail event or a get-together at home. Since it is winter, you can wear a black sequin saree for that extra warmth. Sequin saree in Bollywood is trending a lot these days. Take advantage of the new fashion and slay your event with elegance and bling with this celeb-inspired saree.
Basic Belted Saree By Manushi Chillar: Look at the basic black saree worn by our former Miss World. Do you this would look great without a belt? It would just be an ordinary saree on a beautiful girl. A belt increases the charm altogether! We are sure you might be having a plain saree in your closet – it is time to get that out and experiment with it. Put a belt on your traditional saree, just like Manushi Chhillar did, and you will look absolutely stunning. The belted saree style has completely captured our hearts. Belted sarees provide a chic look that works in every setting. By highlighting the contours, a belt adds a modern twist to the traditional saree.
Cotton Saree By Vidya Balan: The love for cotton fabric is eternal! Especially during a winter night, cotton can give all that comfort. But can cotton sarees be worn to weddings? Ofcourse yes! It all depends on the way you carry it. Look how gracefully Vidya Balan has donned it. The greyish plain saree with yellow borders is eye-catchy. A contrasting blouse with such a saree complements the entire look. Similarly, even you can go for a t-shirt instead of a blouse for that extra charm.
Pastel Print by Pooja Hegde: Without mentioning printed pastel sarees, a Bollywood saree selection is lacking. These sarees consistently strike the ideal blend between classic and contemporary styles. Pooja Hegde was recently photographed wearing a pastel green saree with leherya designs and mirror work. The saree looked stylish because of its pleasant hue and modest pattern. For a long time, everyone has loved pastel colours, so getting a saree in this shade is fantastic! To finish the look, pair it with some stunning diamond earrings and a classic necklace or choker. Additionally, fashionable hues and bizarre designs are currently popular, and they are a must-have for upcoming celebrations.
Conclusion
These stunning collections of Bollywood sarees online can spark anyone's eyes. After all, the divas look so classy! The best thing to learn from these looks is that you got to accessorize it minimally and let your saree speak for your personality. For instance, a sequin saree in black doesn't need many pieces of jewellery.
If your plan is to amplify your wardrobe with the above-mentioned Bollywood sarees – there couldn't be any place better than Tirumala Designers. This online saree shop has tonnes of exclusive designer sarees that will oomph your look totally. And all of this is available at affordable rates with no compromise in quality. The store is now some decades old and has experience in serving the best sarees online. Shopping experience with them is surely going to be beautiful. So, hurry and select the Celeb-inspired look for yourself.
Also, check blog on Jackets for women