Summary:
Gmail is one of the most used email services among business people, educational institutes, and individual users. Backup Gmail emails should be part of your data loss prevention steps.
No one can deny that Gmail is safe, and it stops phishing, malware, and spam from entering your mailbox. This Guide will teach "How to backup Gmail emails with attachments," "Export Gmail emails using Gmail Backup Tool," and "Gmail email backup to hard drive."
Why Do We Need to Backup Gmail Emails?
We need to Export Gmail Emails to prevent data loss. In emails, there are always some valuable emails or attachments. Let's see some reasons to backup Gmail Mail:
Gmail provides 15Gb of Storage Space in free email accounts, that can be filled quickly.
Accidental deletion of email data due to human error is another reason to back up Gmail emails.
Hacker's activity can lead to complete data loss.
Backup files can be accessed offline easily if required.
Methods To Backup Gmail Emails With Attachments:
I will show you some methods for backing up Gmail emails to hard drive.
Users can Export Gmail emails into PST file format using MS Outlook. The steps given below are for MS Outlook 2013. For other versions, the steps may be the same.
You need to enable IMAP Protocol and generate the app password. To know, visit here.
Open MS Outlook and log in using Gmail account details. (Download and install MS Office if you do not have one as MS Outlook is a part of MS Office) using IMAP details.
In MS Outlook, Click on the file tab.
Click on Open & Export, then click Import/Export.
Import and Export Wizard will open. Select Export to a file, then click next.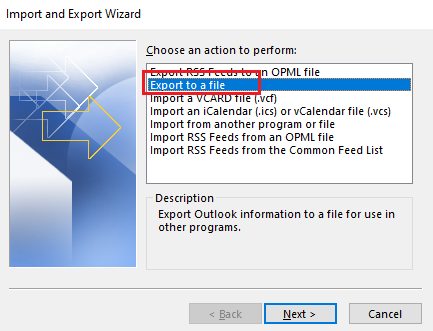 Export to a file window will open. Now Select Outlook Data File(.pst) and click next.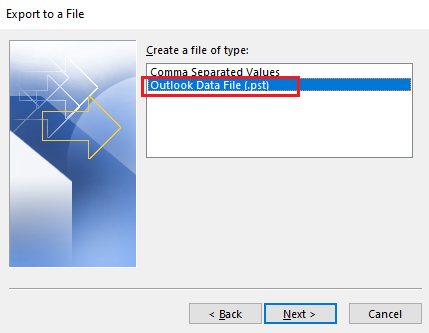 Select the folder you want to export, select include subfolders, and click next.
To choose a destination location, click browse and set the file destination location. Click Finish.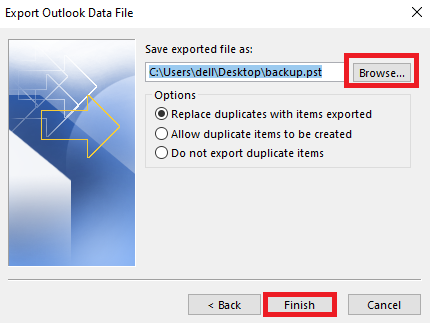 Now you will see Add optional password option, If you do not want to add a password to the backup file, click ok without entering the password.
Your backup file will be saved to the file destination location selected by you.
Backup Gmail Emails Through Google Takeout
Google provides Google Takeout for backing up Gmail emails to hard drive.
Open Gmail, and log in Using Gmail credentials.
Click on Manage your Google Accounts.
Now click on Data & Privacy. Scroll down and click on "Download your data."
Click on Deselect all.
Scroll down, select mail only, and click next.

Select the destination, select Export once, choose file type and size and click next.
Now you will see the Export progress window. You can cancel export anytime or create another export also.

8. Now you will see a screen showing export data. Click on the Download button to download your data.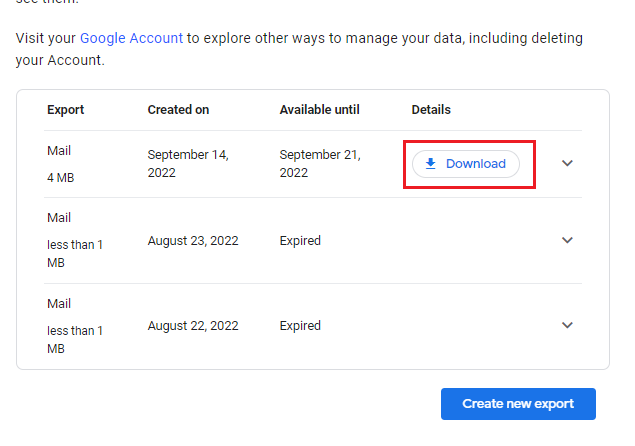 Backup Gmail Emails Using Gmail Backup Tool.
MailsDaddy Gmail email backup is the perfect solution for backing up Gmail emails. This smart tool makes the backup process easy for users. It exports Gmail emails into multiple file formats like PST, EML, MSG, MBOX, EMLX, and HTML formats. This tool is loaded with a date filter feature through which you can back up particular timeframe emails. It has an advanced log option that exports the log report of the export status.
First, we need to enable the IMAP protocol and generate the app password for login. To know how to do this, Visit here. Download and install the MailsDaddy Gmail Backup Tool.
Now let's go through the steps below.
Open the application and sign in using Gmail login Id and Gmail app password.
After Loging in, export window will open. Choose the file format, Click on the date filter if you want a particular timeframe date. In the advance option, select create logs and set the location for the log file. Choose the destination path and click next.
Export progress window will open, showing export progress. You can abort or pause, if needed.
Finally a message window will appear showing the completion of the export data. Click Ok.
This is the working guide of the MailsDaddy Gmail Emails Backup.
Features of MailsDaddy Gmail Backup Tool:
The User Interface of this Gmail backup tool is easy.
Offers users to download emails in multiple file formats.
Keeps read/unread status of Gmails emails.
It provides a Date filter feature to back up particular date emails.
Ability to backup Gmail emails with their associated attachments.
Provides log file of the export.
This software can be installed on all Windows systems.
Conclusion:
In this guide, I showed you multiple ways to backup Gmail emails. Backing up Gmail emails is very important to prevent data loss. You can use any of these methods for Gmail email backup. The process of manual methods discussed in this guide is quite lengthy that's why a user chooses third-party applications. Download MailsDaddy Gmail Backup Tool and try its feasibility.
Check out to know How to import OST file into Office 365.